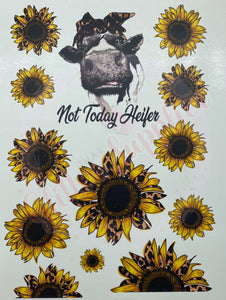 That Glitter Supplier
Not Today Heifer Sunflower
Regular price
$6.75
$0.00
Unit price
per
---Not Today Heifer Waterslide—-

--Clear Waterslide (white available upon request)

--Laser Printed. Delivered Ready to Apply.

--This is a full sheet

—Various size sunflowers include. Suited to for 30, 20, 12, and 10oz. tumblers.

—This is sheet is not designed as a wrap. My suggestion is to cut the individual images and place them on a cup or object where you would like them to go, like a collage.

---